"Cards Against Mundanity" is a fun and engaging team building workshop that significantly boosts performance, innovation and employee retention and satisfaction immediately after the session. Teams typically realize a 5% to 10% increase in key metrics in the proceeding 90 days (and some have seen as much as 25%-50%). How? In 45 minutes or less after playing the game, teams will build deeper, closer and more trusted relationships than what it would take them to create in 5-10 years (that's if the team all stayed together with zero turnover). 
The team building workshop works for any size corporation, startup, nonprofit, school, association, and organization. It can be used with an individual team, remote teams, board of directors, and also used with strategic 3rd parties such as partners, investors, suppliers, customers, and more.
Organizations such as Amazon, Google, E&Y, Oracle, Microsoft, Worldwide Express, Antenna Group, PRSA, several Chambers of Commerce, small businesses such as Interview Connections, and more than fifty others have benefitted from this new team building strategy and process to build high performing and innovative teams and culture. Thousands of people have experienced the game-changing impact and experiences.
After spending three years interviewing more than a thousand individuals, including leaders and teams in Fortune and Forbes Top 10 Workplaces, I've discovered specific team building strategies and activities any organization can do to quickly increase engagement and performance as well as work better with internal and external teams. These can be your strategic advantage in the marketplace as I've only found a handful of organizations that use them.
Even if your organization is doing very well, if you don't have these team building strategies, there is a very high likelihood they aren't operating at peak performance and innovation, and you can significantly increase your key metrics from where you are at today.
Why does this all matter to you?
No new "news flash" here. Collaboration is taking over the workplace. With employees spending more than half their time working together, teamwork is critical to organizational success and market leadership.
Teamwork is absolutely critical for developing innovative solutions and problem-solving.
Done right, teamwork can enable an organization to scale quicker and grow all their key metrics much faster. Organizations can successfully compete with others 5x, 10x, 15x larger and win deals, market share and climb to the top. And it also enables them to extend their market leadership if they are the leader.
However, creating great team environments are very rare and it's costing organizations a staggering amount of time, money and loss of productivity:
According to Gallup, almost 70% of employees are disengaged and it's costing U.S. businesses $550 billion every year.

Fewer than 33% of organizations believe they're innovating enough to successfully drive growth and increase revenue.

96% of executive cite lack of collaboration of ineffective communications for workplace failures.

75 percent of cross-functional teams are dysfunctional.

75% of employees quit is because of poor managers (and this includes their inability to create a great team environment.)
This all leads to lower employee retention levels costing organizations (on average) 100% to 300% to replace each employee.
That's a huge problem, and it's getting worse, not better.
Where does an organization start to build much better teamwork? They need to build a new organizational and cultural foundation based on caring, sharing and vulnerability (i.e. psychological safety). It's been proven to be the key element almost all successful teams have. It's very rarely not present in teams and organizations operating at peak performance and maximum innovation.
You can read my white paper, which has tons of research, statistics, and strategies to leverage to show you why this is critical for your organization and how you can reap the rewards.
Strategy #1: Psychology safety is the foundation of high performance and innovation
In 2012, Google launched a two-year initiative, Project Aristotle, to understand why some teams performed extraordinarily well and others poorly. They examined more than 180 teams, interviewed 200+ individuals and looked at 250 pieces of data.
What Google found out shocked and surprised them. You'd think the individuals who were the smartest, best performing, and had Ivy League education would be the perfect team members. Well, you would be wrong.
Which individuals are on a team matters LESS than how the team members communicate, collaborate, resolve conflicts, problem solve and view their team contributions.

Google discovered that "psychological safety" was the ONLY factor present on their top teams. And without psychological safety none of the other top four factors were present.
It's THE foundation for maximizing performance and innovation.
What does psychological safety look like? It's team members connecting with each other on a personal level, feeling comfortable enough to ask questions and raising controversial ideas.
How would you know if your team has psychological safety? You can use these questions from Harvard Professor Amy Edmondson (1-5 scale from strongly disagree to strongly agree):
If you make a mistake on this team, it is often held against you.

Members of this team are able to bring up problems and tough issues.

People on this team sometimes reject others for being different.

It is safe to take a risk on this team.

It is difficult to ask other members of this team for help.

No one on this team would deliberately act in a way that undermines my efforts.

Working with members of this team, my unique skills and talents are valued and utilized.
If your team and/or organization isn't on the high-end of this scale, it's likely underperforming and not innovating like it could be.
During the workshop you'll learn:
Why teams thrive and falter, and how you can quickly implement strategies that will make an immediate and material impact. Everyone will understand their role to play, and what they need to do (and why).

Play my breakthrough team building game, Cards Against Mundanity, that people love. Your team will walk away much closer together and see you will see the impact on their performance, engagement and interactions the next day.
Get quarterly activities to do that are fun, easy and free to do that keeps building on what you learned in the workshop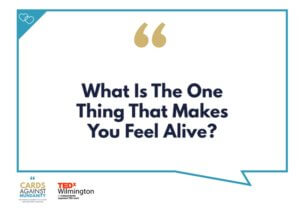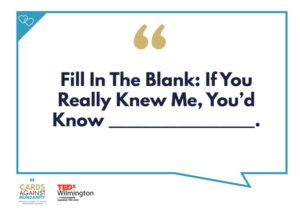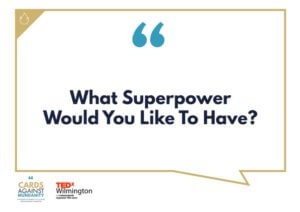 What are the benefits teams and organizations realize after the workshop?
Improved performance and increased creativity and innovation

Improved decision making

Increased employee retention and satisfaction

Increased communication and collaboration

Increased levels of engagement, where people care deeply about other people's success as well as the team and organization

Increased motivation for people to tackle difficult problems and resolve conflicts

Increased accountability and reducing people blaming others for mistakes and failures

Improve customer retention and satisfaction
Results? Here are a few examples of what I've accomplished with teams so far
Doubled revenue over company projections (year-over-year)

Got groups in a Fortune 100 company to start communicating and collaborating for the first time

Increased sales revenue by 25% in 90 days on teams in the bottom half of an organization

Enable a large acquisition by a billion dollar company to surpass expectations of what was possible, and create a much smoother transition than anticipated

Got teams to beat all their key metrics during the quarter, and were the fastest going team in the sales organization

Had a small business do a reorganization and they are now growing faster than ever and the team has never been more engaged and satisfied

Created much stronger and more collaborative, innovative, satisfied and productive board of directors, executive, sales, HR, operations, and technology teams

Successfully used to build much stronger relationships and team collaboration with outside 3rd strategic parties such as clients, suppliers, investors, partners, private equity, and any group that you'd spend a significant amount of time with.
What your next step?
You can download my free team building game

,

Cards Against Mundanity

. It comes with instructions and all the details. You can set it up in five minutes or less. Start playing it on every team across the organization. Teams don't need to be in the same room to get results cross-teams. It works with remote teams. Then, keep doing one new activity every quarter or 3x times a year to keep the momentum going.

You can also watch my TEDx talk, "How to Get CoWorkers to Like Each Other."
I also conduct Team Building workshops.

You can contact me

here

to discuss the process and see if it would be a good fit for your team and/or organization.